The kids are out of school until October 12th for Fall Break and I decided to make sure it's a fun one, so we are going to explore the island of Oahu and go to a different beach every day.
Saturday, we made it down to Lanikai Beach on the leeward side, and even though we weren't there for very long, it was a nice start to our adventures. :O) The sand there is so soft and fine, that the only pain in the butt is it sticks to you majorly!! We shared the day with my friend Emily and her son Xander. The kids really do enjoy having a friend there and it makes it doubly nice for me to have another adult to share conversation with. After the beach we hit up a burger place in Kailua and ate some yummy grub.
Today we decided to try out White Sands beach on the Leeward side thanks to a friend of Emily's. It was more packed than I thought it would be but again the day turned out awesome!! We were there for about 4 hours and the kids soaked it up. I love that side of the island because you have a beautiful view of Waikiki and Diamond Head off in the distance. Not to mention Jayce loves that he can see airplanes flying over head from the airport nearby. That kid is crazy about his airplanes and helicopters. It was pretty wavy but the older kids love it for boarding, and to make it even better, they could go out 1000 feet and it was still only about 4 feet deep. I even made it out once and enjoyed the waves. The kids found shells, sea glass, and buried each other a couple times. I loved every minute. After, we went to grab subs and salads in Kapolei and then headed home. It really was an awesome weekend and I am excited for tomorrow, think we are taking the kids snorkeling at Sharks Cove. The older ones really want to snorkel :O)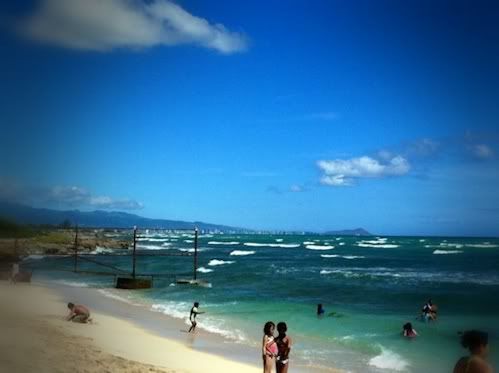 The beautiful view of Waikiki. The ugly fence is to keep people from going over towards the rocks, even though some still made their way over there.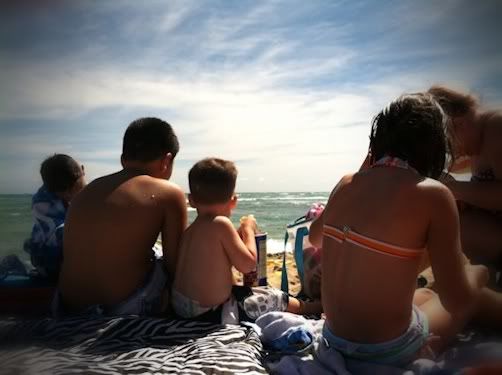 Taking a break for snack.
Still at snack time, but this time getting a smile from a group of 4 happy kids. Love those faces!!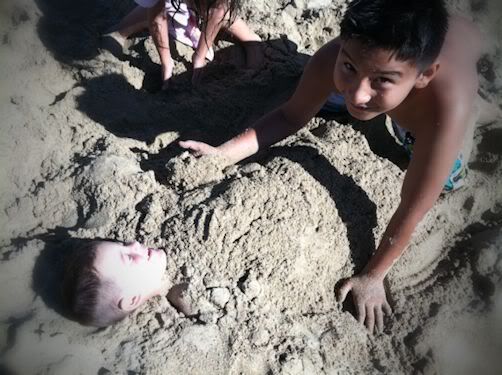 Jayce had his turned to be buried and they really packed him in there!!
After the boys buried Bekah. It is always so great to see them play well with one another. Memories in the making.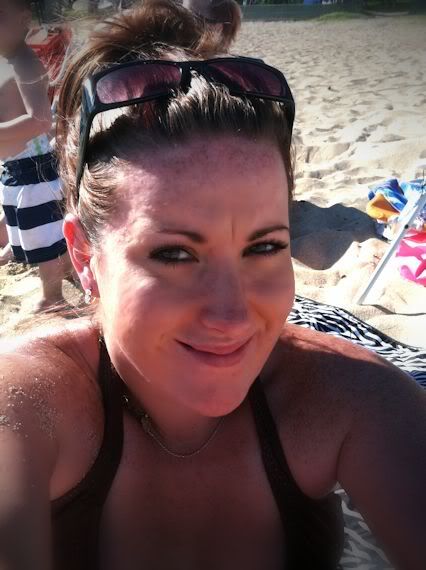 Me trying to soak up some sun.